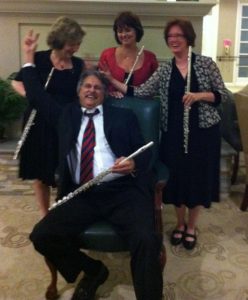 Pictured from right to left, Cathy Barlow Garrison,
Nancy Shearer, Jenny Cline, and Bill Hutzel (center)
In memory of Cathy Barlow Garrison who passed away Wednesday, November 23, 2016.
Cathy seemed to always celebrate life, and so it was fitting that the ceremony in honor of her was called a celebration. But I was sad to see Cathy go, even though she had gone to a better place, a perfect place where there is no pain or suffering, disability or sickness anymore. It is difficult for me, however, to comprehend such a place as this because I am still of this world and because I cannot see God fully yet. It is a place described in the Book of Revelation as picturesque and glorious. It is grander than anything I had ever envisioned it to be like, that of angels sitting on white clouds, angels playing harps, skateboarding down streets of gold, and other depictions from movies I had seen.
Here in this place, I envision Cathy playing in some glorious flute choir. She no longer has to practice ten thousand hours, as I do, in order to perfect her instrument. In fact, any instrument that Cathy picks up now she plays masterfully.  Matthew 5:48 says "But you are to be perfect, even as your Father in heaven is perfect."
The church was standing room only. Tears were flowing everywhere. But at the end of the ceremony, Cathy would remind us, even in death, to look on the bright side of life. As we said our goodbyes to Cathy in our hearts and minds, the ceremony ended with a recording being played from Monty Python's Life of Brian, "Always Look on the Bright Side of Life".
"Go on," said the priest. "Sing it. Sing it, everybody!"
Cathy would have wanted us to sing it and rejoice with her. "Always look on the bright side of life, de dum, de dum, de dum de dum … always look on the bright side of life".
But I could not sing it; I could not whistle it. My lips were quivering. I was just trying to hold it together.
It was Cathy's request to have the song played as her exit song. She always had a marvelous and zany sense of humor.
Oh, and one last thing.  Even when she knew she didn't have much longer to live, Cathy would look death in the eyes and still have a sense of humor.  For instance, when there was some kind of Facebook malfunction that randomly changed people's Facebook profiles to "memorialized" accounts with legacy settings a couple of weeks before she passed, Cathy posted a humorous comment about double-checking her Facebook page to make sure she wasn't dead yet.  You gotta laugh.
Cathy's email handle was "cheerfulflutist". She would inspire all of us who knew her to be cheerful. So no matter what is happening in your life, look on the bright side of life; and if you cannot see the bright side, then "try polishing it" I imagine Cathy would say.
Copyright 2016 by Bill Hutzel
JOIN INSPIRATION AND HOPE ON FACEBOOK BY CLICKING HERE